Natural Bamboo Duvet Cover Set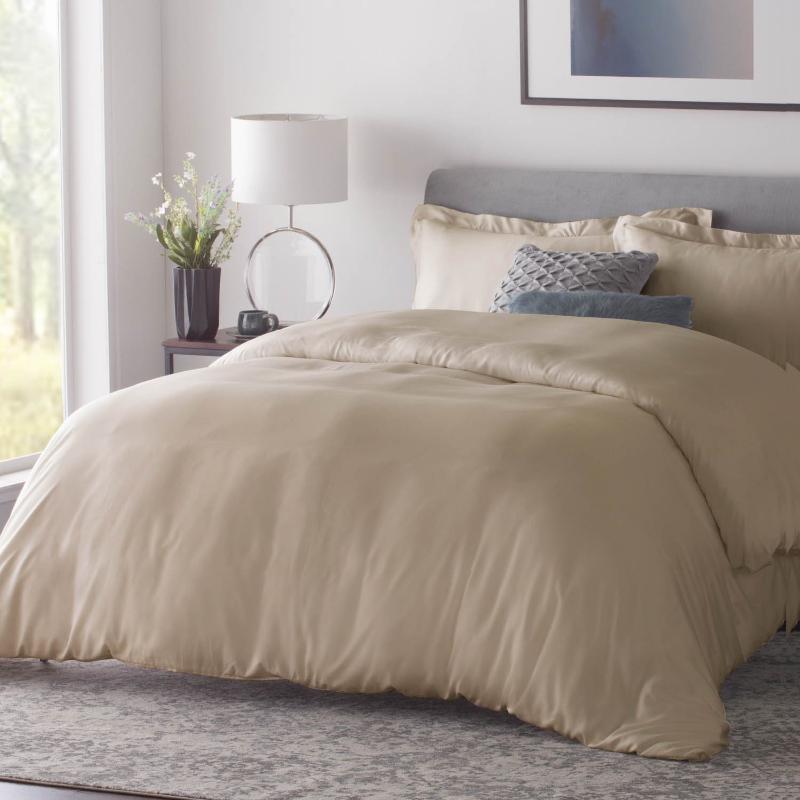 Natural Bamboo Duvet Cover Set
Regular price
$26999
$269.99
Sale price
$24999
$249.99
Free Shipping within U.S. Mainland (Excludes Toppers)
In stock, ready to ship

Inventory on the way
Liquid error (snippets/image-element line 101): invalid url input
Do you want to upgrade your bedroom decor with a luxurious and comfortable duvet cover set? Look no further than our Best Natural Bamboo Duvet Cover Set. Our duvet cover set is crafted with high-quality rayon from bamboo, making it an ideal choice for those with sensitive skin. The 8 corner and side loops provide extra security to ensure your comforter stays in place while you sleep. Not to mention, the naturally hypoallergenic fabric is perfect for regulating body temperature and wicking away moisture. Get ready for an unbeatable night of sleep! Keep reading to learn more about this incredible duvet cover set.
What is the Best Bamboo Duvet Cover Set?
Overview
Our selection of Natural Bamboo Duvet covers is perfect for a blissful night's sleep. The silky, satin-like bamboo fibers are gentle to the touch and breathable enough to maintain optimal temperatures throughout the night. Naturally hypoallergenic rayon in the bamboo fabric actively wicks moisture away from the body to ensure a clean, cool, and comfortable rest. These covers aren't just cozy, but convenient as well. With 8 corner and side loops instead of the traditional 4, your comforter will stay securely in place as you snuggle into position. Choose from an assortment of our elegantly understated colors to spruce up your living space.
Highlights
Silky-soft rayon from bamboo
Clean, cool, and comfortable feel
Features 8 corner and side loops for secure fit
Moisture wicking qualities making it ideal for sensitive skin
Set includes one duvet cover and two matching pillow shams
Sizes:

Oversized King: 98" x 116", with two 36" x 20" pillowcases
Oversized Queen: 98" x 98", with two 26" x 20" pillowcases
King: 92" x 106", with two 36" x 20" pillowcases
Queen: 92" x 88", with two 26" x 20" pillowcases
Pricing:
Our Natural Bamboo Duvet Covers are priced to be both affordable and luxurious, providing you with a truly excellent value. Whether you choose the Queen or King size, you can enjoy quality, comfort, and convenience at a price that won't break the bank. For those who need a bit more extra room to sprawl out and relax, the Oversized Queen and King sizes are perfect, and they'll still come in at a low cost of just $229.99 and $269.99, respectively. Choose from a range of elegant colors to spruce up your bedroom decor, and enjoy the luxurious feel of bamboo fabric at an unbeatable price.
What is Bamboo Duvet Cover Set?
A Bamboo Duvet Cover Set is a luxurious bedding option that is made from bamboo fibers. It is incredibly soft, breathable and silky to the touch, making it an incredibly comfortable and relaxing bedding option. Bamboo is naturally hypoallergenic and antimicrobial, so it's a great choice for those who suffer from allergies or have sensitive skin. The material is also extremely durable and long-lasting, so your Bamboo Duvet Cover Set will last for a very long time. Furthermore, bamboo is a sustainable and renewable resource, so you can feel good about buying a product that is eco-friendly and good for the environment.
Are bamboo duvets washable?
Yes, bamboo duvets are washable. To ensure the longevity of your duvet cover, it should be washed on a gentle cycle in cold water and hung to dry. To protect your duvet cover from fading, it is recommended to dry it on a low-heat setting. Bamboo duvets are also hypoallergenic, making them perfect for people with allergies. Additionally, bamboo duvets are breathable and keep you cool in the summer and warm in the winter. Bamboo duvets also have a natural antibacterial quality, which helps keep your duvet cover fresh and free of odors. When cared for properly, bamboo duvets can last for many years, making them a great investment for your home.
What is the best quality material for a duvet cover?
The best quality material for a duvet cover depends on the user's preference. Organic Cotton is certified with health benefits and is a great option for those looking for a natural, eco-friendly material. On the other hand, Bamboo is silky, delicate, and more breathable than cotton, making it an excellent choice for sensitive sleepers. Either way, both materials are soft and durable, offering comfort and quality for a good night's sleep. To find the best option for you, MyOrganicSleep offers a selection of duvet covers in both Organic Cotton and Bamboo. For more on the material, visit our blog Organic Cotton vs. Bamboo.
Wrap-up
Make your bedroom feel like a dreamy paradise with our Natural Bamboo Duvet Cover Set. With its silky, satin-like fabric, 8 corner and side loops, and hypoallergenic rayon, you'll be getting a restful night's sleep in comfort and style. Choose your favorite color and size to complete your bedroom oasis.